So I finally broke down and bought a new drum set. I have been itching to get a new kit for years (I got rid of my last set like 15 years ago, then had a practice kit for a couple years back in the late 90's), but I've always let it slide on the priority list. All this playing on Rock Band got me really wanting a new kit, much the same way that Guitar Hero renewed my interest in playing guitar. So I did some searching on Musicians Friend (The greatest music store ever!), and found a pretty good low end Pearl kit that didn't break the bank. Got a set of decent set of Paiste cymbals, and I'm in business. The kit arrived on Friday, but unfortunately, the cymbals didn't get here until Monday.
I got her setup, and semi-tuned (any drummer knows this is an ongoing process) on Friday. Yesterday I got the cymbals, and got them all set. The dogs are NOT happy about this renewed obsession, but they'll get used to it. I tried taking it slow and giving Benny treats while I was tuning and stuff, which seems to help. But he's a complete pansy ass, so he gets all stressed. China just goes somewhere else, and she's fine.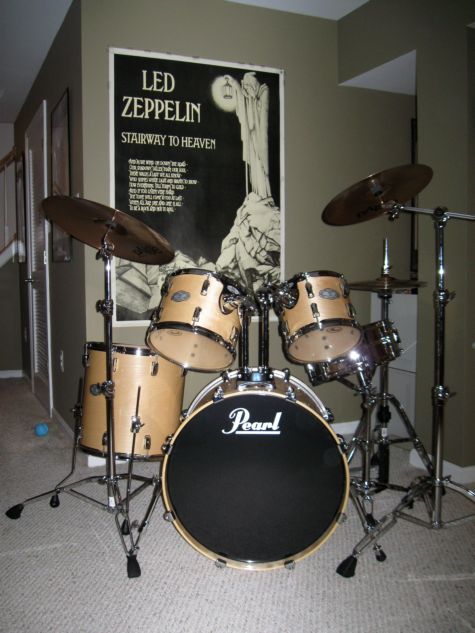 We flew out to LA on Saturday morning for my Grandmother's 80th birthday party.
Continue reading "Short but sweet Cali trip; New drums for me" →